Leica DX Shield Account & Subscription help page
Please send us an email if you need help which is not covered in this page.
The following pages outline the account and subscription process, for fuller details please refer to Leica Geosystems Terms of Service and General Conditions of Sale and Supply by clicking on the links:
Terms of Service
General Conditions of Sales and Supply
Accounts levels are structured to provide you with flexible options.
The Standard Account is zero charge and provides you with 3 months of viewable data. Upgrades to Pro or Expert levels are subscription based and a fee is applicable based on the registered user count on the account at a Pro or Expert level.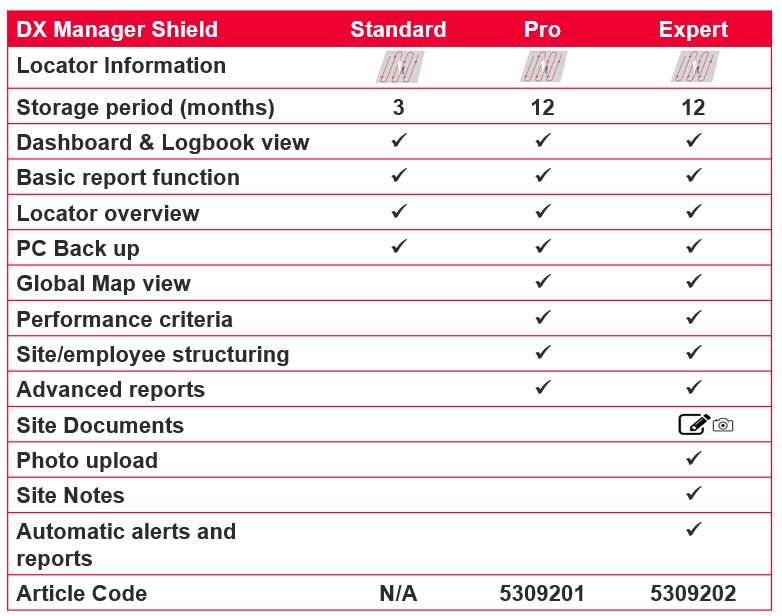 Subscriptions management is via an account management portal and a link to this is provided within DX Manager Shield.
A standard account is needed before any upgrades can be made.
To Register for an account visit https://leicaregistration.azurewebsites.net/Account/Register and complete the registration process: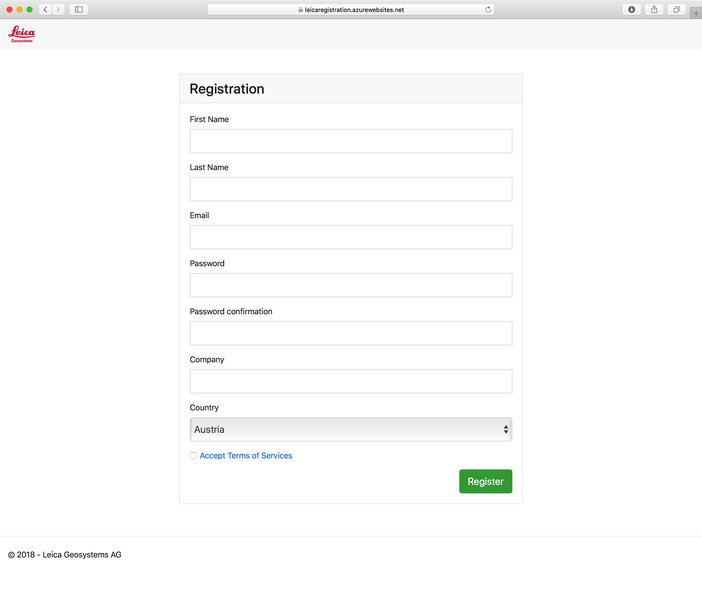 Account holders should bear in mind that features, functions, parts or elements of Leica DX Shield can be used or accessed only by holders of an Account or those registered on it.
The person who wishes to create an Account must:
complete the sign-up form on the Web Site
accept these Terms of Service before final application by clicking "Register"
nominate a person or be responsible for the account
Each Customer may have only one account. If several persons need to use an account on behalf of the Customer, then the Customer must designate such persons as Users. Each such User shall be subject to the restrictions set forth in the Terms of Service.
The Customer and any User associated with an account must provide true, accurate, current, and complete information about the Customer, Users or Account and keep it up to date and take care to prevent Harm to the system brought about by program viruses or other means.
An account is active upon confirming the account activation email.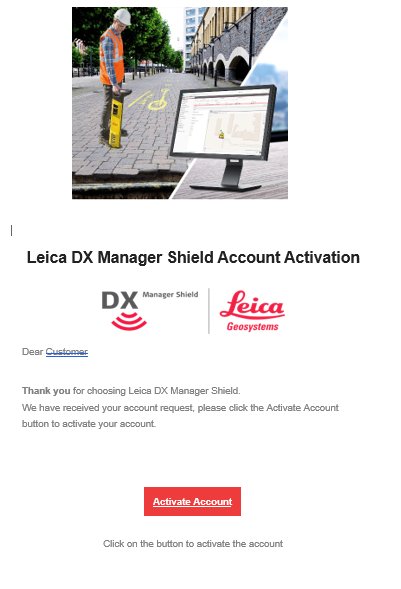 Subscription and Users can be added to the account and access rights (privileges) can be assigned.
Standard
Pro
Expert
Viewable data (months)
3
12
12
Role assignments Options
Access levels (Privilege)

Field role


Upload to DX Manager Shield and view uploaded files
Y
Y
Y

Reporter role


Additional to Field role; Access reports, view scan data and where applicable Sites Notes
Y
Y
Y

Admin role


Additional to Reporter role: Access Master Data for employee, resource configuration and subscription management
Y
Y
Y
Leica Geosystems may from time to review account features and subscriptions costs.
Subscriptions and upgrades can be ordered by contacting your local Leica dealer or direct Leica contact.
Subscription Downgrading
Subscriptions can be downgraded by contacting your local Leica contact or by writing an email to the support address given above.
Downgraded subscriptions will not be applicable for a refund and 30 days written notification is needed to terminate a subscription.
Please note, when downgrading the account will default to the Standard level and data could be lost.
Account Termination
Either Party may terminate an account (and Terms of Service) by giving to the other Party not less than 30 days prior written notice. Reiimbursement will be based on the Terms of Service and General Conditions of Sales and Supply.
A Party may terminate these Terms immediately on the giving of written notice to the other Party if the other Party is in material breach of the Terms of Service or General Conditions of Sales and Supply.
Account termination will close the account and subsequent loss of data.